This is a very interesting set up for me today. I am still laying in bed, watching a movie, and blogging. I never lay in bed this late, I only watch TV in bed when I'm sick, and the only place I usually blog is on my little corner of our couch in the family room. I decided to switch things up today, do something a little different.
I turned 29 a week ago today and it was just how I wanted it to be. The night before Matt, one of my best friends Lauren, and I all went out for dinner and some drinks in a little swanky downtown restaurant. The next day the kids came over and showered me with love and birthday kisses. I don't remember the last time I spent my actual birthday with them. Not that it really matters, we all celebrate holidays and birthdays on whenever we are all together as a family. Dates are just dates but it was nice being able to all be together this year.
After going through the kid's backpacks and school papers, we headed to my parents house for dinner. The weather was a perfectly crisp fall day and the kids ran around outside with my dad, helping him with things outside in the yard. They both came inside wet, no surprise there, my dad is always up to something with them. He usually just throws his hands up and says "Whaaat? I didn't do that!" LOL, okay dad. *wink-wink*
I received so many amazing thoughtful gifts from everyone. They were all gifts to keep me warm. (new winter coat, beautiful brown wool poncho, handcrafted grey wool gloves, a green plaid sweater scarf) My favorite would have to be the one the kids picked out for me. I was walking through Target with James and pointed out a bright plaid red vest and mentioned something about how cute it was. He asked me what size I was, which made me laugh, and we went about our Target shopping trip. That boy remembered, and he dragged his dad to Target to buy that vest for me. Guys…I was in tears. I cried like a baby and all poor James could say was, "It's the right one, right mom?!" Of course it was the right one and he remembered, which just made my heart explode with love.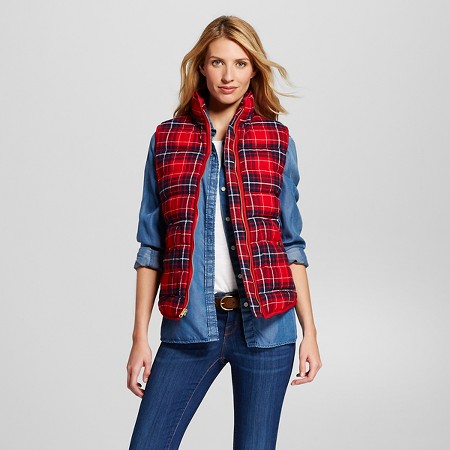 My birthday was JUST how I wanted it to be. Surrounded with love, relaxation, family, and great friends. My husband always knows how to make me feel special on my birthday and even though I was fine with just being with him at home, he made sure I was surrounded by the people that matter most to me in my life.
Here is to my last year in my 20's! I honestly cannot WAIT to see what my 30's have to bring!